Cello Private Lessons
Yvonne M.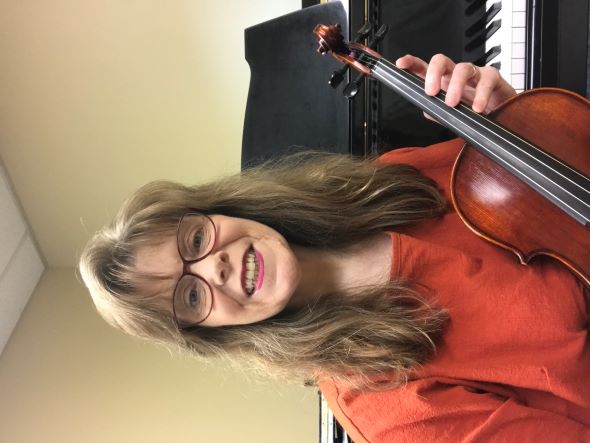 Yvonne began her piano studies at the age of seven, later adding flute and violin. She chose to pursue a degree in Psychology and graduated from the University of Pittsburgh with a Bachelor of Science, but music has always been at the center of her life. Yvonne retired from her career with the U.S. Federal Government in 2016 and returned to college to complete a Bachelor of Arts degree at Western Connecticut State University, Magna Cum Laude. Her studies have focused on both piano and viola. She is a recipient of the Ruth Ann Leever Memorial Scholarship and Award of Musical Achievement. Yvonne has been a member of the Danbury Music Centre's Community Orchestra since 2015. She has served as piano accompanist for the Danbury Music Centre's Summer Strings Program since 2017, and was a featured piano soloist in the Music Learning Center's Faculty & Friends Concert in 2018. She is a member of several professional organizations including the Music Teacher's National Association. Her goal is to instill in her students a lifetime joy of music!
Month to month
Tuesday at Music Learning Center
Month to month
Saturday at Music Learning Center
Zakhary P.
Zakhary received his Bachelors and Masters of Music degrees from Kiev State Conservatory (former Soviet Union). He has performed as a soloist and member of several symphony orchestras and chamber ensembles throughout the Soviet Union, and in numerous tours of Europe, Asia, and Latin America. In 1992, he immigrated to the United States with his family. Since moving to Danbury in 1998, Zakhary has been a member of the Ridgefield Symphony Orchestra. He has also frequently appeared in concerts with the Hartford Symphony Orchestra, Brooklyn Chamber Orchestra, and Westchester Philharmonic. In addition to teaching at the Music Learning Center, Zakhary teaches cello as part of the Visiting Artists Program at Newtown High School.
Month to month
Monday at Music Learning Center
Month to month
Tuesday at Music Learning Center